The Times They Are A-Changin'...
By Brian Skoyles
I'm a lucky fella! I've fished Etang Meunier many times, and that in itself makes me very lucky. It's one of my favourite venues, and I've watched it change and develop over the years. In the winter of 08/09 season, as part of essential maintainance and fishery management, Etang Meunier was drained down. This enabled a lot of bankside cleaning/peg development to take place and at the same time facilitated the removal of a lot of the cats and nuisance fish such as poisson chats etc.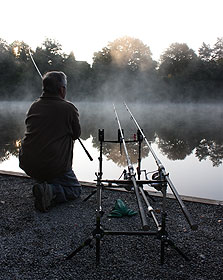 Since then the water has been fished for the full 2009 season. I went twice in 2009, once in April with good friend Kev Green and once with the family. In my opinion the removal of the cats has had a profound effect on the carp population, and as a result, I'm having a rethink on how I approach Etang Meunier in the future.
Over the years Etang Meunier has changed dramatically and in the process has become one of the best holiday venues in France. In the early days it was a runs water, with huge catches of doubles and low twenties. The tactic was to put in as many boilies and as much pellet as you could afford. The carp loved it, and thrived. The cats also started to grow and breed, and eventually became a significant part of the population.
The carp didn't seem to mind sharing the lake with the cats, and they continued to prosper, with thirties and the odd forty becoming the norm. The tactic was still feed the swim heavily, and the carp would move in. Happy days for everyone!
In more recent years, forties have become the norm, and fifties featured in many weekly write-ups, plus some big cats. In the summer of 08, Martyn and I had 36 fish, including 16 forties and 2 fifties, plus several cats to over thirty pounds, by no means an exceptional week by Etang Meunier standards. No change with tactics, select areas to bait, keep the bait going in, and the fish arrived on cue. Keep feeding and they keep feeding, nice and simple! And so to the 2009 season.
The first trip in early April was with Kev Green, and was interesting to say the least, Condition were tricky, the early spring had not been early, and the weather although sunny were on the chilly side. In the first 24 hours we didn't see obvious signs of fish movement or activity. The log book indicated very slow fishing in the previous week. We had taken plenty of bait, high quality frozen boilies, plenty of pellets, and French Mix etc. The problem was we weren't sure how to use it.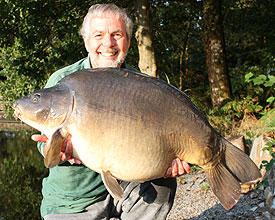 In the end we opted for a compromise. I would create a baited area, Kev would fish off the main baited area with small bags etc. We would both concentrate on the main open water area from the house swim, and take it in turns to stalk the shallows.
We had a superb week, with some lovely fish to high fifties, but how we did it was significant. The main baited area did not produce, even though I really worked at it. Kev started to pick up fish consistently with the small bag, fish for one fish approach. The stalking was brilliant, and if we went looking for fish we caught very well. Basically we left very happy, but with the impression that the fish were being very selective on when they fed, where they fed, and on what they fed. We put it down to the late spring and cold conditions.
The second trip was the family holiday in early September. The weather was completely different. A dominant high pressure stayed with us all week, gently breezes, rarely a cloud in the sky, hot days, and warm nights. There were fish moving everywhere. One surprise was the relatively slow results for the previous couple of weeks. Single figure numbers of fish for the week. Some big fish, but lotsof comments reflecting quite tricky fishing, plus two or three comments mentioning old bait floating into the margins etc. (we also found old mouldy boilies in the margins during the week).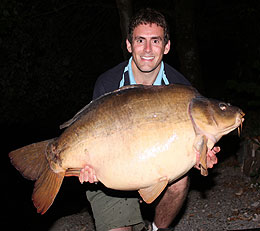 As on previous holidays we had plenty of bait with us, but again we had the dilemma of what to do with it. Usually we would go out in the boat and pile it in, but with the comments in the book, we reasoned that for whatever reason the fish were not scoffing all the bait available to them, so would we be making the situation worse by putting a lot of new bait on top of uneaten bait already there.
Once again we went for the compromise option, bait one area, and fish other rods as singles or over a light scattering. Both fishing from the main front of house swim, with lots of stalking down the shallows, same as Easter.
We ended the week with 1 fifty, 9 forties, 4 thirties, and 2 twenties. Not a catch to be sniffed at by any means, it had been another brilliant Etang Meunier holiday, but the fishing had been harder than on previous summer trips. Both Martyn and I are reasonably experience anglers and we think about our fishing. So what was happening? We had plenty of clues.
The log book indicating several weeks with harder fishing than in previous years.
Reports of old, mouldy baits coming to the surface.
We noticed the fish spending long periods in the far bank snags trees, and several log book entries indicated that anglers were having to fish close to the trees to get takes. (At range, with very big fish this is not in my opinion good practice, with too higher risk of the fish becoming snagged up).
The fish on the shallows were very spooky, and any fishing, had to be spot on or the fish just melted away.
The main baited area did not produce as consistently as in previous years.
In previous years, putting a bait to a bubbling fish would usually produce a take. It still worked but there were times when the bubbling just faded away and no take was forth coming.
Several fish were hooked, from very small bobbin movements.
The fish we caught were in superb condition, and several of them were up in weight from previous years.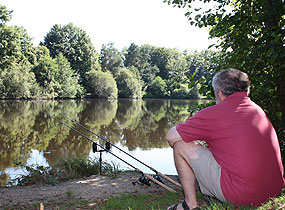 Our conclusion? The Meunier fish were being much more selective in their feeding on our bait, they were making less mistakes, avoiding some of the usual obvious feeding areas and basically becoming harder to catch. This process is bound to happen on any popular water, but in 2009 the biomass had been changed quite dramatically by the removal of the cats and the nuisance fish, so put simply the carp had more food available to them.
The carp can therefore afford to spend more time thinking about, what to, when to, and where to feed. They certainly had the option to ignore any poorly prepared freebait and/or any casually presented hook-bait.
Etang Meunier was moving from a relatively easy to fish runs water to a different proposition altogether. A much trickier fishery, a water where you will really have to think your week through, where the rewards for getting it right can be stunningly good, where fish will have to be earned, and worked for, but where every successfully converted pick up could produce a fish of a lifetime...
So how will I be tackling Etang Meunier in the future?
I will not arrive with any set plans. For me, the days or automatically piling the bait in are gone, and I'll need to be sure of the fishes behaviour before I'll "go large"
I'll make sure I am aware of the weather that has affected the Limoges area prior to my trip, and the forecast for the week I'm there.
I will stick with the quality frozen baits, but I'll take a bigger variety of shapes and sizes, that way I have more options re hook-bait combinations and baiting patterns to keep the fish guessing.
I will make sure I have some hard hook-baits. It's been my experience that on waters containing experienced fish, setting traps that you can leave out for longer than normal periods of time can produce well.
Tactically I'll more likely fish for "a take" rather than bait for a "hit".
I'll become a bit more set-up conscious. Making sure rigs are fine tuned, lines reasonably slack and on the bottom. I'll keep hook sizes as small as safely viable, and be prepared to experiment with the length of hook-lengths.
Some of the above might read a bit vague, it is, because in truth I'm not exactly sure how my tactics will work out. All I know is that I won't be taking anything for granted. In my opinion, Etang Meunier is one of the best waters in France, with some stunning carp to fish for, I'm not going to waste its potential by not fishing it carefully.
It might be getting harder, but I can't wait to get back!