The icing on the cake...
By Colin Bunn
We arrived at the lake on the Saturday afternoon rearing to go after a hard years guiding in Spain for the cat's, looking forward to a relaxing and rewarding weeks fishing at Meunier as we have done over the past 5 years. I started fishing as soon as we had settled into the house and had my first run at 1.15am resulting in a lovely 33lb mirror. This was photographed and returned and I got back into my sleeping bag as it was pretty cold on the nights. I was awaken less than an hour later at 2.05am to a fast take only to lose the heavy lump in a snag under the bushes - gutted! These fish are quite hard to catch and any fish losses always get you thinking just how big was that one that just got away.
Anyway back to bed. I awoke at first light to see a few fish rolling around my baited areas so I decided not to re-bait so I did not disturb them as they can be quite spooky fish. It wasn't until 3.50pm that I was away again, this one resulting in cracking 50.08lb mirror which was a real lump.
I re-baited late afternoon ready for the evening session and waited. Three takes already in the first day, can't be bad, especially for November.
At 10.45pm a roaring take but straight under the trees again. I could feel the fish bumping about, trying to get free for a few moments and then it all stopped, the fish had gone. Gutted!! Two fish landed and two lost, not good averages at this time. Re-bait and back to bed.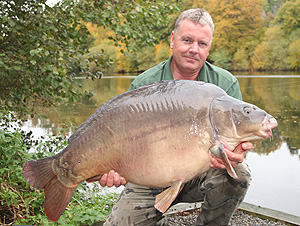 At 2.30am a slow take awoke me and shortly after a 49.04 mirror was in the net, followed by a 52.08lb mirror, then a 46.04lb mirror, then a 55.04lb mirror. No sleep but a very happy angler. The rest of the morning was uneventful until 12.30pm when a 43.08lb mirror graced the net. Photo's done and fish released and I'm away again, this time I could see the fish in the clear water as it approached the net, what a lump. As soon as it saw the net it was off, no stopping it and it went all the way back to where I hooked it. Because I had seen it and knew it was a big one the nervous set in. I really didn't want to lose this one, I had lost two already, please not another. After a long but steady fight she was landed. 52.12lb mirror, what a beast. No sooner had we returned this one, another rod was away and before long another lump was in the net, a mirror of 47.08lb. What a start!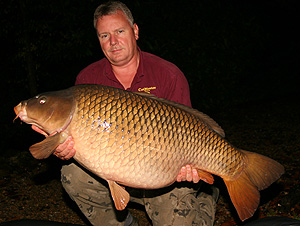 I rested the swim for a few hours before I baited up for the evening session and was rewarded with a lovely 44lb mirror at 10.45pm. The rest of the night was quiet so I caught up with my sleep but was awaken to a screamer at 8.00am, a 26lb mirror. I decided at this point to go out in the boat and have a prod about at the lake bed and a look with my glass bottomed bucket to see what I could find as the fish were feeding confidently I felt it would be ok to do this without disturbing them. How wrong could I be.
I picked up a stunning 52.12lb common at 11.40pm that evening but not a touch all day. I didn't even see a fish and for the next three days nothing. A big mistake was made by myself going out in the boat and disturbing the fish. I wish I could have gone back in time and made a different choice but that's not to be. I would have to suffer for my mistake.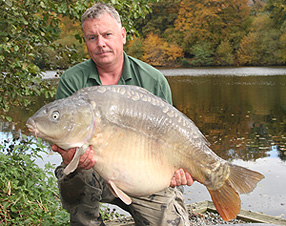 It was Friday afternoon by this time and nothing more had happened. I was kicking myself. We had to be gone in the morning and the last three days I had caught nothing. I had got off to a flyer and messed it up. I did my last bait up on the evening and noticed some ripples coming out from some bushes along the far bank. I had seen them periodically for the past couple of days so I thought I might as well try a bait right in the gap between the bushes. No sooner than I placed the bait in the gap that I noticed the line tightening. I hadn't even time to put the baitrunner on let alone the alarm so I lifted into the fish and kept the pressure on to get the fish away from the danger. After a long heavy battle a huge 55.04 mirror was in my net. Three days of nothing and to finish my trip off with this was the icing on the cake as they say.
In total I had 6 x 50's, 5 x 40's, 1 x 30 and 1 x 20 and my lad aged 8 caught a 46lb mirror and my better half, Rose caught a 55lb mirror but I didn't write them down in my book so I'm not sure of the exact weights now. All of these except my last fish were caught in the first two days of fishing. Oh how I regret going out in the boat and disturbing the swim, who knows what I may have caught during that week.