Our own little paradise for the week
By Duncan Arrandale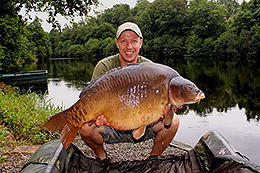 I went to Etang Meunier with my wife and two daughters on 2 August 2014 and just wanted to congratulate you on such a fantastic venue.
Upon our arrival on the dam after a long journey (2am start in the UK!) both myself and my wife had our breath taken away at the beautiful setting. It was our own little paradise for the week and was the best holiday that we have had as a family. My 9 year old twin daughters had a great time too and we managed to catch a few perch and small catfish on worms.
I was also suitably impressed by the carp, all in superb condition (even if they were a little tricky at times). I fished mainly days (only doing 2 nights) and ended up with 10 fish, 4 x 40's, 4 x 30's and 2 x 20's, making this one of the best fishing weeks ever for me.