Fantasy Fishing. Meunier Style
By Brian Skoyles
I've just had one of those weeks, no not a bad one, just the opposite… a week that will stay in my memory for a very long time. Etang Meunier has long been a favourite venue of mine, and I've had some fabulous catches from the lake in the past, but this latest trip takes a week's fishing holiday into the realms of Fantasy fishing.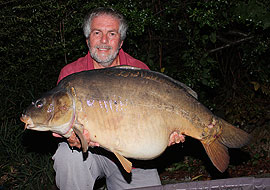 On this trip I was accompanied by my son Martyn and his partner Rachel. As usual, on the way down, we discussed tactics etc. Etang Meunier is a popular venue and we knew that the fish do not always like angling pressure, so we decided not to go in all guns blazing, but to put one set of rods in the house swim, which would be baited regularly, then take alternate 24hrs fishing. The person not fishing the main baited area could wander about stalking the shallows etc. We reasoned that this would keep the number of lines in the water down, but maximise our catching potential. We also intended to go out several days for a wander around Limoges etc, so the lake would get a complete rest most days as well.
We baited up with Nutrabaits Trigga Ice, from the boat every evening, putting several kilo's into the main baited area, plus a scattering of pellets. Rigs were straight forward in-lines or lead clip systems, hook-lengths fluorocarbon, and on the hair mostly double boilies.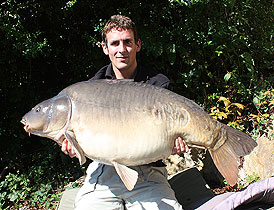 We soon got into routine, and what a routine. The first night was not spectacular, I had one mid 20, but as we kept the bait going in the fishing just got better and better. We caught steadily day and night … stunning fish, in superb condition. With arm aching regularity they came to the net, and our backs started to ache as we lifted yet another fish up for the pictures.
The Tuesday/Wednesday stands out. We went to the shops Tuesday lunchtime, had a bite to eat, got back to the rods mid afternoon. I put the main rods out and I had a 43/0, late afternoon. Martyn baited the swim and took over at 7-00pm. Overnight he had a 19/8, followed by a 55/10, then soon after a 51/2 and to finish the night, just as dawn was breaking a 40/4.
I didn't get a lot of sleep as I had to keep getting up to take pictures, so I stayed up and had a wander down the shallows early morning and unbelievably had another forty at 43/2. We'd had 3 forties and 2 fifties in under twenty-four hours…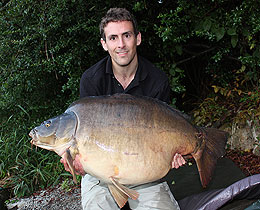 We kept saying it couldn't carry on, it would have to slow down, but it didn't. We kept the bait going in, and they kept eating it… Magic!
Friday came all too soon, and we leisurely packed away, spending our last evening sat on the balcony looking out over the lake, in the company of ace bailiff "rooster" Brian, a cool beer and fabulous memories of a very special week.
For the record, we ended up with 36 fish, a total which included 16 forties and 2 fifties… as they say, it just doesn't get any better.
Brian Skoyles (August 08)