A lake that's got everything!
By Leon Bartropp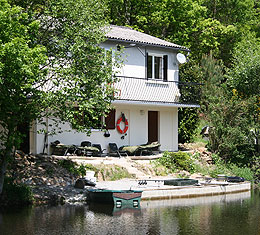 It's not very often in France that you come across a lake that's got everything, but Etang Meunier has it all. Superb accommodation and brilliant fishing what more could you want, it's both somewhere that you could take the mrs to stay for a week (now that has to be something a bit special doesn't it!) or somewhere you can go with your mates and catch a few.
The house which is literally on the lake side is absolutely stunning. The interior, which has been decorated to a high standard, includes a nice hot shower and all mod cons including oven, fridge, microwave and all the cooking utensils that you require for a weeks stay. The local shop is also within walking distance and there is a petrol station just up the road. There is plenty of storage space under the house for your tackle and a freezer for your bait.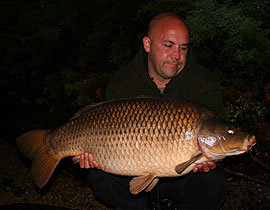 I recently went for a weeks fishing at Etang Meunier for the first time and I was pleasantly surprised with the quality of the fish that this lake holds, the stock is second to none in my view for a lake of its size in France. There are many 50lb fish to go for and the odd 60lb+ as well, and they are only growing so I expected 70lb+ fish to be getting caught in the not too distant future. Our trip average worked out at just under 48lb, which is simply astonishing!
The lakes owners have done quite a bit of work to the lake and house, building the swims to a very high standard and also cutting away any snags from under the trees so you have no chance of losing fish on underwater branches.
Talking to the owners I felt that they really wanted people to come and enjoy themselves, catch some big fish and relax in the quality accommodation. Well we certainly did that and I cannot recommend Etang Meunier enough, whether you want a weeks hardcore fishing for big quality fish or for somewhere to take the mrs in beautiful French surroundings then Etang Meunier is for you. I can't wait to get back.