Super Stalking...
By Brian Skoyles
It's May and at last it's starting to warm up. Looking in the log book, and the weather had played a large part in early catches. Some brilliant fish to just over sixty pounds, but also some slow weeks which in the main had coincided with some very cold or wet weather.
The forecast for our week was better, with a high pressure system promising dry settled weather, still not as warm as usual for the time of year, but going in the right direction, and at least the previous poor weather had removed any chance of spawning interfering with our fishing. I was fishing with good friend George Sinclair, who was on his first visit to Etang Meunier, and like me he was looking forward to seven days of Meunier Magic!
A night on the Hull to Zeebrugge ferry, and the usual long drive down through Belgium and France had us arriving at Meunier for about 6-00 p.m. and a couple of hours later enough gear out and organised for us to fish the night. At last we could relax, get the rods out, have a bit of food, and think about the week ahead. We were both shattered so soon after dark it was time for some kip.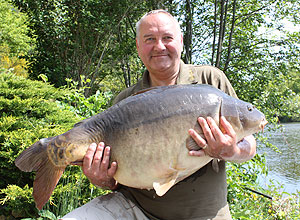 Nothing happened overnight, and I woke briefly just as it was starting to get light, but must have dozed off again because the next thing I remember was scrabbling down the steps to answer the one toner coming from my Delkim. Some time later we are taking pics of an immaculate 47, a very nice start.
We settled into routine, but the fish weren't exactly giving them selves up. Over the next couple of days I had a second fish 34/8, and George two forties, 43/0 and 46/0, from the House swim. We were ticking over nicely, but as the weather warmed up so the fish came up in the water for a bit of sun bathing, and spread out around the lake, time for some stalking.
Etang Meunier is one of my favourite stalking waters. From the second and third wood swims in the wood the far tree line can be very productive, and the shallows towards the stream entrance can be full of fish in the right conditions. I had a good walk round, there was a lot of water coming in from the stream, but the actual shallows were empty of fish, perhaps the fresh water was still a bit on the cold side. The tree line was a different bet however, and I spotted several fish soaking up the sun in and around the trees as I did a lap of the lake. The most interesting spot I found, had a group of fish feeding really close in, and I crumbed up a few baits to see how they would react. Puffs of silt, and vortexes in the water were good enough for me and it was back for the gear.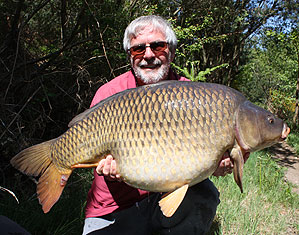 I find fishing the tree line at Meunier particularly exciting, because you know you are fishing for very big fish, and there is no room for error. Gear wise, standard through action rod/reel combo, 15lb Sensor line, and a basic lead clip system with the flat pear lead barely held on by the tail rubber. The fishing itself is relatively straight forward, cast tight to the tree line, keep the reel clutch tight, and watch the rods like a hawk. Hit anything that moves, keep the pressure on, and with a bit of luck the fish will kite away from the trees. Out of interest there are several spots where you can cast very tight to the far bank, having been along the far margin in a boat, having a prod around, some of the spots are very shallow, so I usually fish about a metre off the margin, which over the years has been very consistent for me.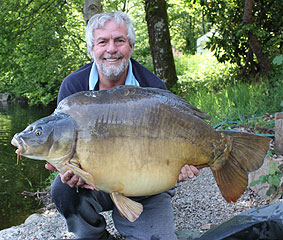 The next three days produced some great stalking, we didn't hammer it, fishing in short bursts, then resting it. Two highlights stick in my mind. Wednesday lunchtime, a stunning 56/2, which tested me and the gear to the limits, then a hectic Thursday afternoon which produced three fish in quick succession, a 34/2 common, a 40/12 mirror, and a 38/4 mirror.
What makes Etang Meunier so special is that you can make of it what you want. If you want a relaxing week, chilling in the house swim, then it's a perfect sit and wait area, but if you want a bit more then there are plenty of more challenging fishing situations, that can really get the adrenalin flowing. We actually caught more than half our fish from stalking situations, and we had the perfect fishing holiday, combining patient session fishing behind the three rods, and intensive, nerve jangling hit and hold stalking.
It's just a shame the week goes so fast!
Brian Skoyles (June 10)